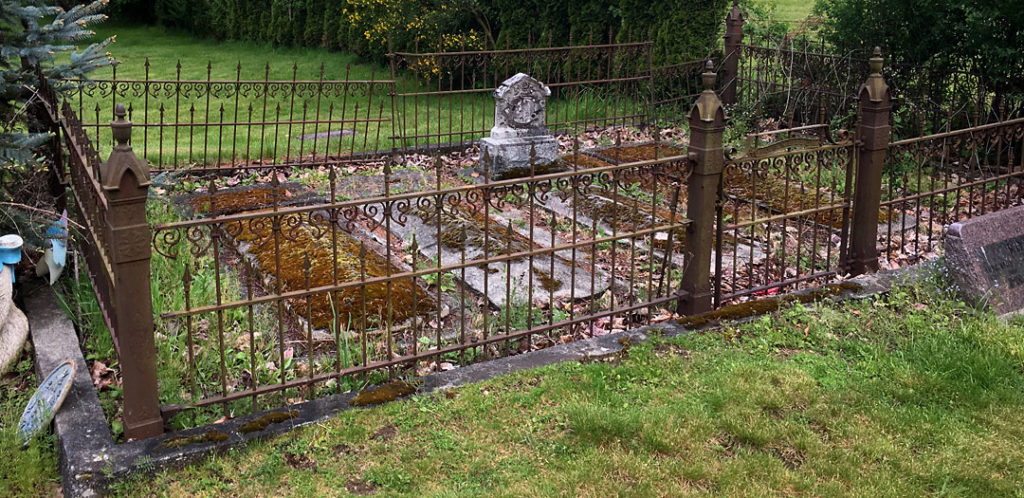 WorkParty: White Family Gravesite
Woodlawn Cemetery on Riverview Road
Saturday, May 26, 10-12p.
Delia White and her three daughters are buried here and we imagine the ashes of their father, John, who was cremated in Seattle. Follow this link to read the story I wrote in 2016 while researching the book.
The gravesite is at the top of the hill overlooking the Snohomish River and easy to find as it's surrounded by a gated fence. Rakes and other tools will be provided, but special help is required for repairing the iron fence.
Those wishing to bring flowers are encouraged to show up at noon when Warner will give a short background on the White Family from his book J.S. White: Our First Architect, published by the People of Snohomish and Friends in 2007.

Back view, looking northeast, Elsie White Hootson (1882-1928) is buried in the far left grave; then her mother Delia White (1853-1933); Alice White (1879-1898) she was only 19-years-old; and on the right is the grave of Linnie White Sprau (1876-1930). Note the broken fence that may be bolted back together. The cast iron fence is of high quality but it's not known when or who installed it.
. . . .
July 12 & 19, 2018 | 3-7p | Snohomish Farmers Market
Two Day Birthday Party for J. S. White (July 13, 1845) Discounted Books & Surprizes!
. . . .

"Discovering the White Building Hidden in Plain Sight"
Presented April 14th at the Everett Public Library Auditorium; thanks to Lita for the image and to all who attended.
. . . .
Guided Walking Tour: J.S. White's 19th-Century Snohomish
Sunday, May 6, 12-1:30,
(Meet at the Uppercase Bookshop, 2nd & B, parking friendly)
Celebrate Historic Preservation Month with a ninety-minute guided walking tour beginning and ending at the Uppercase Bookshop. Visit the sites and hear the stories of White's structures from 19th-century Snohomish as documented in our fine art book J.S. White: Our First Architect published by the People of Snohomish & Friends, 2017. Led by author Warner Blake, who likes to say: Walking, these days, is Reenacting History — and it's Free!

No room for a shot with the White House!

At the Elwell House, owner Ms. Roberts treated us to cookies … Thanks!
. . . .