In the late 1940s, an automobile dealership on the south side of First Street collapsed toward the Snohomish River, its foundation compromised by continued flooding. A block-long row of connected, one-story storefront buildings, built of local brick, was condemned and sat empty for nearly twenty years.
During this time, Snohomish's main drag moved to Second Street, which was extended to reach the new U.S. Route 2, north of town — splitting the old cemetery in two. By the 1960s, however, the question on business leader's minds was how to bring people back into our empty downtown? Urban renewal funds supported a study that recommended tearing down all of the old buildings on the river side of First Street, along with those condemned two decades before, then update the remaining buildings to give Snohomish the look of a Riverside Shopping Mall!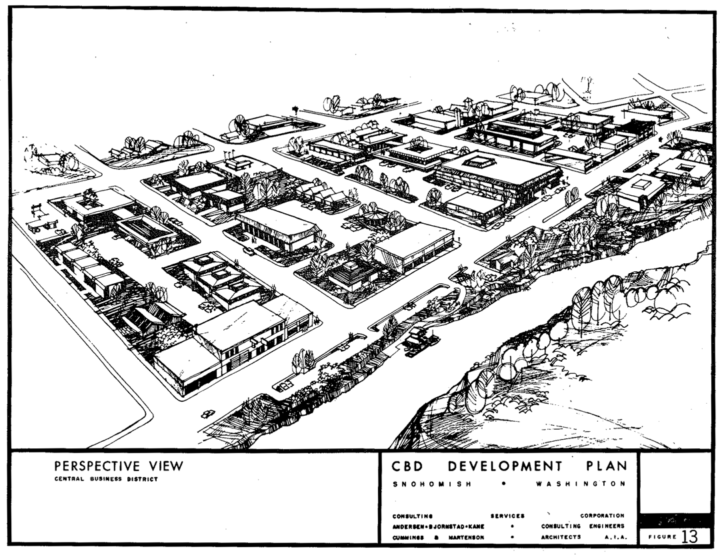 Artist rendering of a First Street urban renewal proposal in 1965. Implementing this plan would have prevented Snohomish's downtown from being listed on the National Register of Historic Places in 1973.

An editorial on October 28, 1965, summed it up this way: "Snohomish hasn't sunk that low, yet."
Two buildings designed by J. S. White would have been lost with that scheme: the A. M. Blackman Grocery Store (913 First) and Wilbur's Drugstore Building (1201 First). Gone, too, would have been at least two stories about the flourishing of frontier Snohomish. The Lot Wilbur story is told here. It's Arthur M. Blackman's turn this month.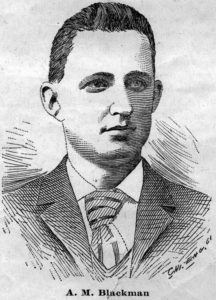 Born in the State of Maine in 1865, Arthur's family settled in Oakland, California when he was only 11 years old. At age 20, Arthur set out for Snohomish arriving on Christmas day, 1885.
Since the California Blackman's had grocery store business experience in their background, we suspect that the Snohomish cousins requested Arthur's help in opening Blackman's first grocery store at the northeast corner of Avenue C and First.
Within in a couple of years, however, Arthur was ready to open his own store and commissioned the contractor J.S. White to build the handsome building that is currently home to the Oxford Saloon.
Arthur's grocery store ​ ​failed in 1894, as did a lot of businesses, victims of the 1893 nationwide depression.
"Then it was a furniture store, a shoe store, and became the Oxford Pool Room during the Prohibition," reported David Dilgard, History Specialist with the Everett Public Library on his 2006 walking tour, "and apparently began its career as a tavern during the Second World War."
It was on David's tour that I first heard the name "J. S. White."
Arthur turned to logging work on the river until appointed Snohomish Postmaster in 1896, serving with distinction until his retirement in 1913. He died in 1929, but records are not clear if he is buried in Everett or in our local GAR Cemetery where a simple stone marker with his name is holding a spot alongside his wife Adeliza, who preferred to be called "Buddy."
. . . .
Published in the Snohomish County Tribune, August 20, 2014