Tam Elwell lived at 209 Avenue D, the second structure north from 2nd Street in the image above, circa 1885. Below is a blown up section of the historic image showing a gathering of men on horses and at least one carriage that we imagine is in front of Tam's livery, which was next door to his home.
Given the name Jacob Tamlin at birth in 1839, he was the eldest of ten children born in Maine to John Elwell and Eliza Crosby, and all ten siblings, along with their parents, migrated to the Puget Sound Country in the 1870s.
Tam and his wife Sarah gave birth to nine children, two of them after settling in Snohomish. At first, Tam worked in the family logging operations, but his passion grew to breeding horses. He is reputed to have brought the first carriage to Snohomish. By the time of his death in 1913, his livery operation on Avenue D was known throughout Snohomish County.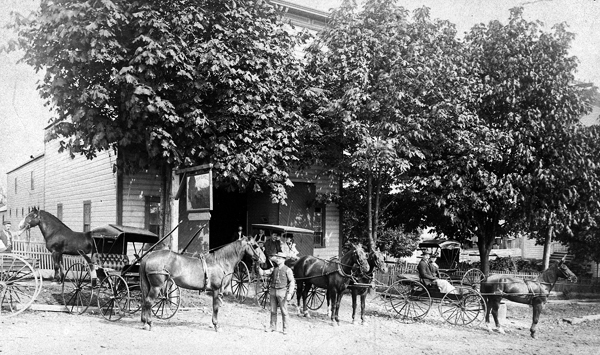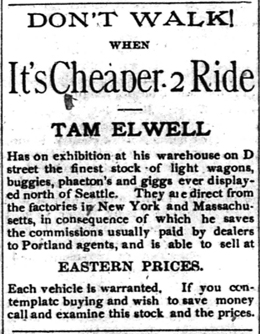 Above: Tam Elwell's livery operation on Avenue D.

Right: An ad for Elwell's business published in a 1888 issue of The Eye. Not many early Snohomish residents could afford the expense of keeping a horse, much less, purchase a carriage. Instead, they rented a horse drawn rig when needed from a livery service such as Tam Elwell's.


Tam Elwell was found dead in his home Sunday morning, where he had been living alone since the death of his wife Sarah, four years earlier. The obituary published in the Snohomish County Tribune on April 8, 1913, reads in part as if lifted from a mystery novel:
"The discovery was made by the milkman, who noticed that the milk he had left on Friday and Saturday had not been touched and that there were several unread newspapers on the porch. Looking through the window he saw Mr. Elwell sitting in his chair as though asleep."
The funeral was held Wednesday afternoon at the Bakeman-Purdy undertaking parlor which was not nearly large enough to hold the massive turnout by the community. Tam was survived by five brothers, including Edgar who built his fancy home designed by the architect J. S. White, across the street in 1887; which he sold in 1901, and departed for the mines of Canada. At the time of the funeral, the home was being divided by the recently arrived architect Nels Peter Hansen, fashioning his family home in the southern half.
Tam's body was escorted by the business leaders of Snohomish acting as pall bearers to his final resting place, alongside his wife, at the G.A.R. Cemetery, and where many of the Elwells are watched over by the steady gaze of a stone angel — one of the finest monuments on the well cared for grounds.

Stone angel watching over the Elwells at the G.A.R. Cemetery.


. . . .