We interrupt our regular schedule of monthly stories about Snohomish to talk about the passing of my sister, Sara, who was a Publisher of J.S. White Our First Architect;
plus, she took on the front-of-house duties when I presented Soup Talks Seattle in the former brig at Seattle's Magnuson Park in 2000.
We grew up with siblings, Peter and Nancy in Hopkins, Minnesota, in a Jewish neighborhood on the north side of Highway 7, but attended St. Joseph's Catholic School in downtown Hopkins. Otherwise, it was a very normal upbringing with a 24/7 mother and a father who retired from the Minneapolis Gas Company, divorced our mom and took off for California with his former high school sweetheart. We were grown children by then.
As I am six years older than Sara, we fell out of contact, especially when I moved to Boston for a teaching job with my family of three plus me. When my marriage ended, and I became a single parent raising a 10-year-old boy, sister Sara came out to Boston to help — that's when we talked about living in Seattle, where brother Peter had settled with his family.
With Sara in Boston and a bottle of Wild Turkey.
With my teaching load reduced, Sara returned to Minneapolis; when I lost the job to the tenure thing, my son and I headed west. We arrived in the Land of Lakes just in time to join Sara's friends singing together at an art gallery opening. Another evening featured dinner with sister Nancy and our divorced father as the guest of honor. He really seemed to enjoy the music from Big Pink on the stereo: "I pulled into Nazareth, was feeling 'bout half past dead…" Remember us explaining the lyrics to him but not what we said.
Sisters Sara and Nancy, then mother Maxine moved to Seattle. Some thirty-years plus following our childhood together, all four siblings were in joyous contact with each other again and along with our mother, we shared the eruption of Mount St. Helens together.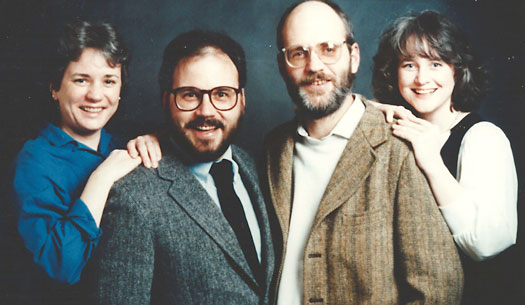 Sara, Peter, me, and Nancy.
Sara managed the former Simpatico Italian Resturant in Seattle for years and in one of them, she suggested to the owner that I paint a wall mural of an Italian village behind the bar, which I did in exchange for meals. We found a souvenir copy of the menu in Sara's effects that brought a rush of memories to the surface. When it closed, Sara joined the management team at Jazz Alley; I am remembering her invitation to experience a rare performance by Carla Bley, called the "First Lady of Jazz" in the press.
Sara's heart disease struck in Bali of all places, during her second visit with a friend in the hotel hospitality business. It was an extended visit in the hospital until she was well enough to fly home. The disease led to surgery; then a pacemaker; then lung cancer that showed up following her move to Bellingham, home to her musician nephew Robert.
Sara did not let a diagnosis of terminal cancer stop her from volunteering with the Subdued Stringband Jamboree this past August. Sitting in our lawn chairs in the dark, watching Robert on stage, she was open to the reality that this might be her last jamboree. And that was before cancer spread to the liver, then jumped to the brain. She passed before dawn Wednesday, February 21, at the Whatcom Hospice House in Bellingham.
The Sunday before, Karen and I visited with her and two friends who were reminiscing about their days working at Simpatico while Sara sipped red wine through a straw.
Take a load off Fanny, take a load for free
Take a load off Fanny, and you put the load right on me
. . . .

Video of Sara's Celebration of Life Party on March 26th in Bellingham.
. . . .