Have you ever visited a city and found yourself on a Heritage Trail? Without a brochure or even intention, you were following informative, eye-catching interpretative signs that took you back to the origin of the place where you were walking and so you continued to walk from sign to sign?
This happened to me in my hometown of Minneapolis when we returned for a family reunion and our mother wanted to visit the church of her childhood located where Minneapolis/St. Paul began — the St. Anthony Falls Historic District.
"Minneapolis' once-thriving lumber and flour milling industries began at St. Anthony Falls — the only major falls along the Mississippi River. This industrial history is on display along the St. Anthony Falls Heritage Trail, a 1.8-mile loop around the city's riverfront within the St. Anthony Falls Heritage Zone." (p.68 "Hitting the Trail, Twelve Urban Historic Trails Where You Can Explore a City's Past and Present," Preservation Winter 2019.)
Upon my return to Snohomish, I began talking up the establishment of a heritage trail to anyone who would listen. Before that, while still a weekend resident, I led my first walking tour of the First Street/Riverfront Trail loop that shows and tells the story of early Snohomish.
. . . .
The renovation of the former St. Michael Catholic Church into our home and studio would begin on Fridays when we drove up from Seattle to touch base with, Roland, our carpenter/confessor, before he headed back to Seattle until Monday morning.
The place was ours for the weekend.
We walked around inspecting/admiring the new framing … then began loading our white Astro cargo van with Roland's outtakes, many times a pile waist high. We had to make the dump-run before it closes, and we were looking forward to our reward of an Indian dinner out. It was a hole-in-the-wall place on lower Hewitt that we loved as an instant tradition begun on our first date. Always ordered the large bottle of Kingfisher Premium and together we'd wait for our food to arrive.
We were weekend residents until the turn of the millennium, living in a 300-square-foot addition built over a carport on the south end of the church structure, vintage 1960s. No oven, but everything else, and best of all, it had a private entrance. Karen worked on her garden and her thoughts of running for a city council seat; I joined the historical society.
"Snohomish is old enough for its own heritage trail," I remember writing somewhere. My pitch for a trail was always enthusiastically received but never funded. In 2011, inspired by the 150th Anniversary of the founding of Snohomish led to the proposal for lamp post banners marking the event which was funded by the Historic Downtown Snohomish organization. Banners with the faces of the city's founders hung from every lamppost up and down First Street for five years or so.
Working with Wendy, the city's economic director, we have submitted a grant to the 2019 Historical Preservation Grant Program administered by the Snohomish County Historic Preservation Commission to establish the first trail for the City of Snohomish.
Its proposed name is Snohomish Heritage Trail #1. Birthplace of the County in Three-Acts.
The intention is to create interpretative signs that will lead visitors on a Heritage Trail loop of Snohomish's downtown business district, including the River Front Trail, that shows and tells the highlights of the city's 19th-century heritage, with emphasis on the people.
The plan is to repurpose the three, three-pole Wayfinder clusters installed on the south side of 1st Street at the former Visitor Center, Avenue D; Avenue B street end, near the public restroom facility and stairs to the River Front Trail; where Union Avenue also ends – and where our story begins.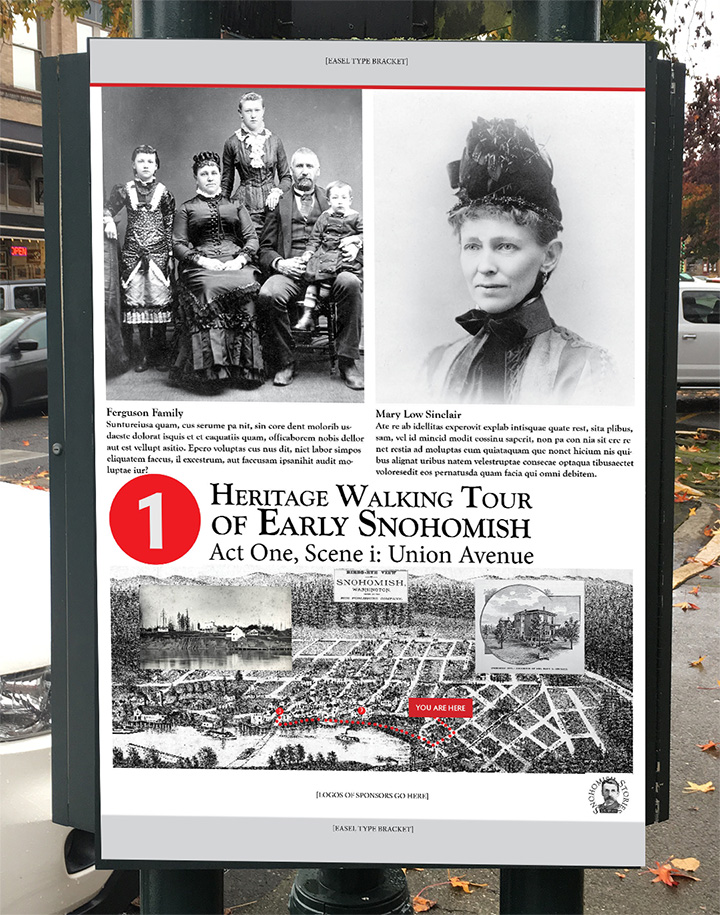 Mock-up of the proposed interpretative sign at Union and First Street –a new use for the existing wayfinding infrastructure.
. . . .
"Walking around Snohomish is enjoyable and educational. Because so much of its historical fabric remains, it is a place where one can experience (at least in moments of reverie) what our region's towns were like more than a century ago. Although there are other places that offer similar experiences, Snohomish is conveniently close to Seattle."
Jeffrey Karl Ochsner, UW Professor, Department of Architecture
. . . .
Featured Image above: An example of an interpretative sign, on the left, outlines a brief history the former St. Michael Catholic Church and the establishment of AngelArmsWorks Studio in 1993 which may be viewed at 230 Avenue B.