Tap image to view Dust Cover images and learn book specs.

Happy to sign a copy
with an inscription:
Only $29.95!"
(+ tax; USA shipping included!)
Signed copies are available exclusively at Snohomish's cozy
UPPERCASE BOOKSHOP, in the Log Cabin,
at 2nd & Avenue B | 360.2178521
Unsigned copies of our Fine Art Book are shrink wrapped —
and available at the following fine bookstores:
Lake Forest Park | Third Place Books, 206.366.3333
Everett | Judy Matheson, Gifts, 425.258.2287
Seattle | Peter Miller Books, 206.441.1501
And online at Amazon.
. . .
To purchase by check please remit $32.71 ($2.76 tax) payable to Snohomish Stories, 230 Avenue B, Snohomish, WA 98290.
Follw this link to view Dust Cover Images & Book Specs
. . .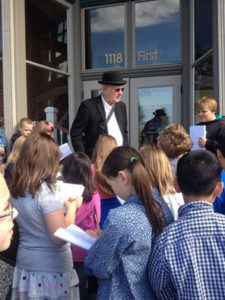 Header image above is from an Emerson 3rd grader's Thank You Note, as is my lovely portrait above; pictured left is a parent's snap of the the walking tour.
. . .