Our fine art book, J. S. White, Our First Architect: His Surviving Structures from 19th-Century Snohomish, features essays by local historian Warner Blake (Early Snohomish, Snohomish: Then and Now), and color portraits by Seattle photographer Otto Greule. White left nothing behind except his buildings, so Warner combed through over a decade of weekly issues published by the Snohomish Eye to discover White's story and identify his structures.
Signed copies are available exclusively at Snohomish's cozy
UPPERCASE BOOKSHOP, in the Log Cabin,
at 2nd & Avenue B | 360.217.8521
Unsigned copies of our Fine Art Book are shrink-wrapped —
and available at the following fine bookstores:
Seattle | Peter Miller Books, 206.441.1501
And online at Amazon.
. . .
To purchase by check please remit $32.71 ($2.76 tax) payable to Snohomish Stories, 230 Avenue B, Snohomish, WA 98290.
Follw this link to view Dust Cover Images & Book Specs
. . .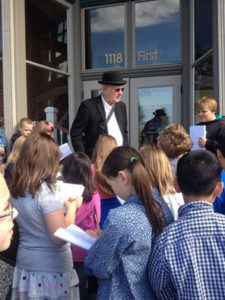 The header image above is from an Emerson 3rd grader's Thank You Note, as is my lovely portrait above; pictured left is a parent's snap of the walking tour.
. . .