Please follow this link to learn about the Heritage Trail Signs.
. . .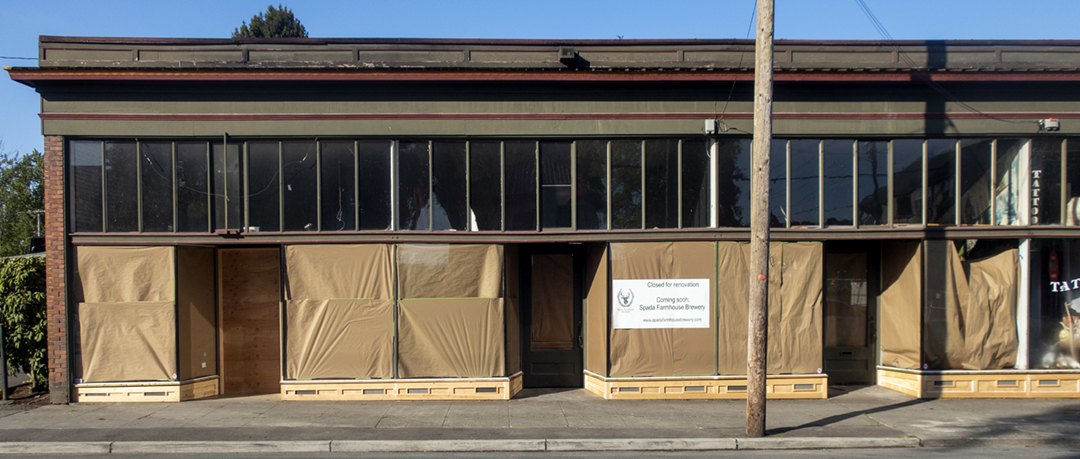 709 First Street building BEFORE image while the Header image above is the AFTER shot.
Mellisa Spada contacted me to learn what I might know about the former Stewart's building at 709 First which they purchased with plans to expand their Spada Farmhouse Brewery. I was no help but suggested we search the old newspapers once the library reopens. Then, pitched her the idea of replacing the brown paper with inexpensive bond paper prints of a historic image divided into sections. It's an idea that comes to me every time a store on First Street changes hands and the windows are covered with kraft paper!
Bill's Blueprint in Everett prints color and black & white images up to 36 inches wide by any reasonable length, according to the website, starting at 35 cents a square foot for white bond paper. In the case of the 709 First building with 83-inch tall windows, each section of a photo mural would cost under $10 dollars, Mellisa did the calculations and came up with 19 sections. My pitch to Mellisa was for her to pay for the materials and I would donate the labor — (I wasn't sure if the idea would work).
The prints were pasted to the windows with a thinned down wheatpaste — a method adopted from graffiti postering — it's not intended for close-up viewing. Best of all, it's ephemeral, like theater, after the run of performances we strike the set, said the former scenic designer.
The historic photo used is one of my favorites by Gilbert Horton taken in 1908 of an event marking the laying of cobblestones on First Street to replace the wooden planks. I wrote about it in 2008, when the "Snohomish Then and Now" column was published in the Tribune.
It's a family affair renovating the old, well-used building, I look forward to posting the final AFTER image when they open for business.
. . .