Jennie and Lot Wilbur celebrated their wedding anniversary on April 8th; she was 24 years old and he was two years younger when they got married in 1868. The Michigan State marriage register for Calhoun County, with penmanship fit for a wedding invitation, lists Charles Proot and his wife as witnesses to the Wilbur's union.
The union produced no children, but together they established the first drug store of Snohomish County at the corner of First Street and Avenue C, where their two-story brick building still stands.
Not so lucky for their three-story home on the corner of Second and Avenue B. It was on a hill, overlooking the town sprouting up on the north bank of the river, but was moved in three pieces and the hill lowered to street level for an automobile dealership.
Fortunately, it was long after they had stopped celebrating their wedding anniversaries — Jennie was gone in 1919, and Lot died in 1930.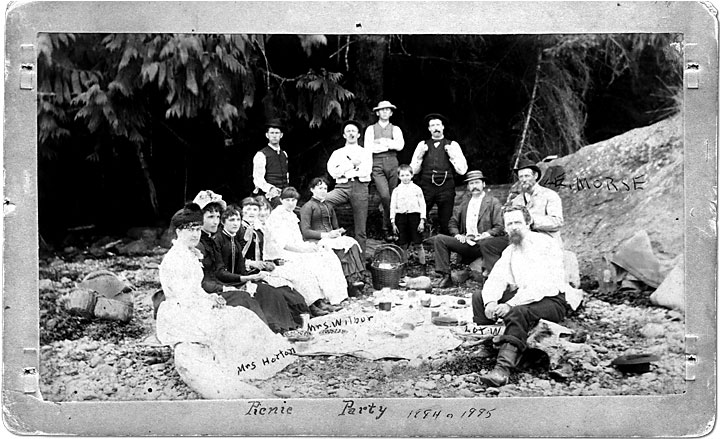 Riverside Outing by Snohomish's Elite c.1885. Identified in this defaced photograph are Mrs. Horton on the left (the photographer's wife), seated next to her is Jennie Wilbur and husband Lot is on the right; seated behind him is Eldridge Morse, co-founder and editor of "The Northern Star," Snohomish's first newspaper — where he coined the term "Snohomish's elite."
PHOTOGRAPH BY G.D. HORTON | SNOHOMISH HISTORICAL SOCIETY ARCHIVES
. . . .