Within weeks after mailing a donation of our book, J.S. White Our First Architect, to the Cook Memorial Library in Tamworth, NH, White's birthplace, I received a complimentary thank you email from Chris Clyne, the local history librarian. However, the second paragraph read in part: "but found no record of his family in Tamworth." Further, he was "wondering how [do] you know he was born here?"
Responding immediately, I told him our source was William Whitfield's 1926 History of Snohomish County, Vol. 2, p. 343-4; John S. White:
"He was born in Tamworth, Carroll County, New Hampshire, on the 13th of July, 1845, a son of Isaac White, and was reared at home, attending the public schools of his community. At the age of eighteen years, he learned the trade of a carpenter, which vocation he followed in his native state for about fifteen years."
And closed with the fact that Whitfield was one of the pallbearers at White's funeral in 1920. (Always impresses me.) Then I sent the chain of emails to Ann Tuohy.
Ann Tuohy is a long-time volunteer genealogist with the Snohomish Historical Society, and big-time helper putting my two books together. But long before I started the book on White, Ann had completed a genealogical workup of him and it was Ann who located the source of his birth in Whitfield's book — so for sure, she would want to know about this curious development.
It didn't take but a week for Ann to write:
Guess what?

I think John S. White was actually John Mudgett, son of Isaac and Mercy (Hobbs) Mudgett, and brother of Isaac Newton Mudgett. 🙂
I had never seen an emoticon in any of Ann's emails — come to learn she had found Isaac White's will, dated 1871, where it seems the father, Isaac, had changed his name to White as well.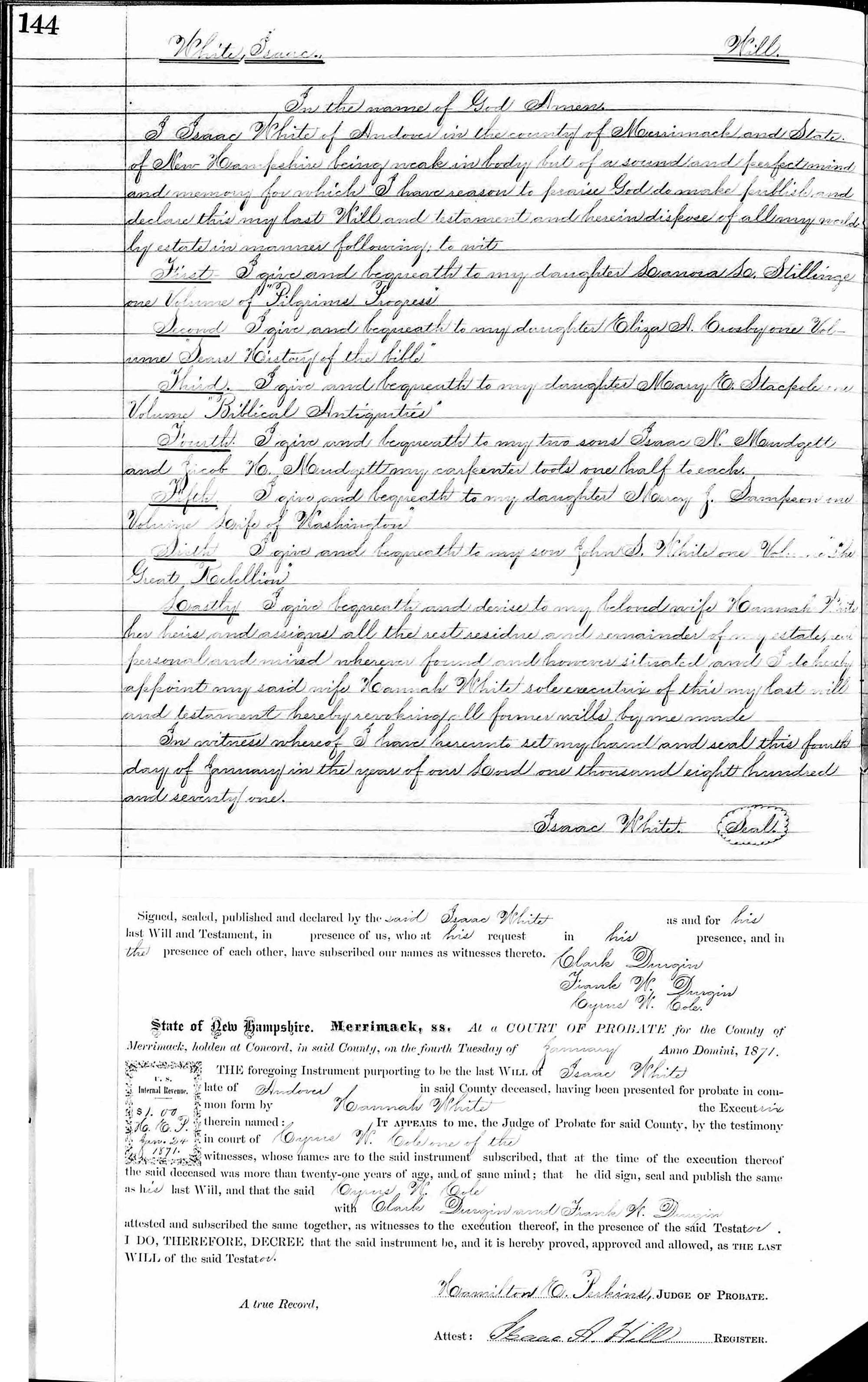 Isaac White of Andover wrote his will on 4 Jan. 1871, which was probated in Merrimack County, New Hampshire on 24 Jan. 1871. He named his daughter Leonora S. Stillinge, daughter Eliza A. Crosby, daughter Mary E. Stackpole, my two sons Isaac N. Mudgett and Jacob H. Mudgett, daughter Mercy J. Sampson, son John S. White, and wife Hannah White. (Hannah was Hannah Rollins whom Isaac had married on 18 Jan. 1865.)
The son, Isaac Newton Mudgett, and his wife, Ellen, built their home on Avenue H around the time White arrived with his family and who immediately purchased four lots on Block One in the Clay Addition. Eventually, White built his family home on Avenue H as well, just a few doors south of the Mudgett's.
From the start, I imagined a connection between Mudgett and White in order for both families to end up in Snohomish … and now we learn, thanks to Ann's imaginative discovery, that they may have been brothers!
We met in the Snohomish Library where I had the opportunity to introduce Ann to the director, Jude, as he passed by our table — as a "treasure" for her genealogical research and documentation. "I'm curious about people," is all Ann will say. As long as I have known her, Ann shies away from talking about herself, but her contribution to the history of Snohomish is immense.
Born in Snohomish to two journalism majors, the Dobbs, her father Tom was the publisher of the Snohomish County Tribune for many years until his death in 1955. A long marriage to the popular Dr. Cedric Tuohy produced a family of two sons and a daughter. Ann and Cedric lost their son Tom in 2007 and Cedric passed two years later.
"I like solving puzzles," Ann told me, then added, "This is a good one, I am still working on it."
. . .