Author Frances Wood listens to you with her eyes. Once you learn that Frances was a co-founder and writer of the popular NPR feature "Bird Note" — you understand — she must have listened to a lot of bird songs while looking for the singer.
In 2008, Frances showed up at the Blackman House Museum while I was on docent duty inquiring if the museum might carry her book Down to Camp: A History of Summer Folk on Whidbey Island in our small store.
As we got to talking, I learned that her great-grandmother stayed in the museum when it was the home of its first owners and builders, Ella and Hyrcanus Blackman. Her name, Nina Blackman, was the daughter of George Blackman, Hyrcanus's cousin living in Oakland, California. Hyrcanus, active on the school board offered Nina a position of primary teacher in Snohomish's one school.
The year was 1887 and her brother, Arthur, had been managing the Blackman Grocery Store for the past year. Within three years, Arthur Blackman built and opened his own store at 913 1st Street, currently the Oxford Saloon, which was designed by J. S. White — a story told in Essay #6, J. S. White Our First Architect.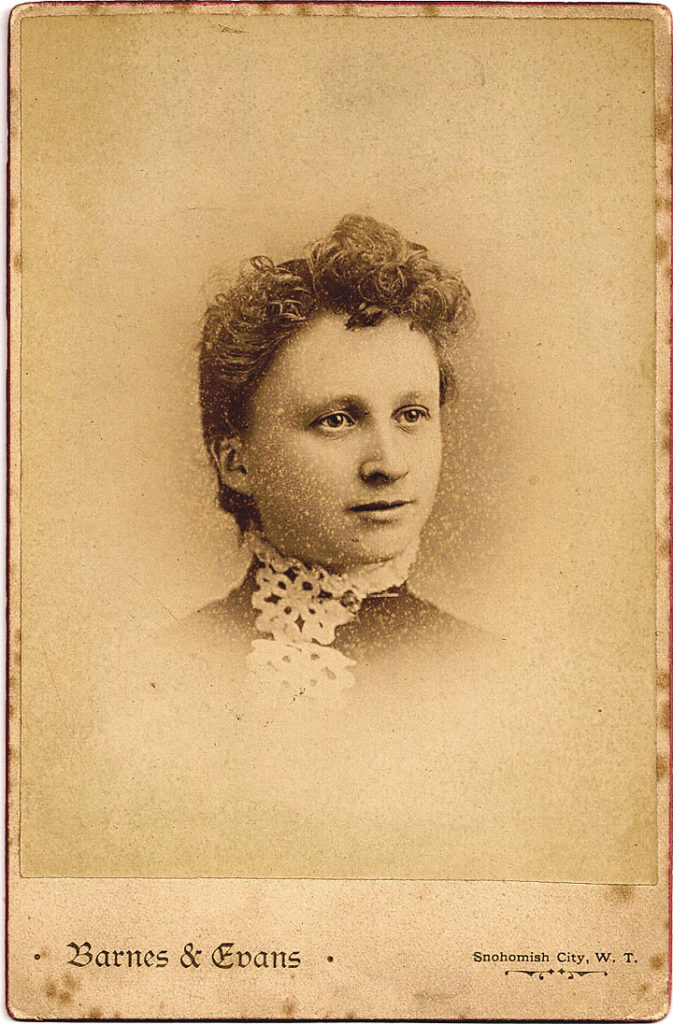 Nina Blackman around the time she arrived in Snohomish.
In her book Down to Camp, Frances tells the story of Nina's arrival in Snohomish:
Nina arrived on the steamer and, as church bells summon the faithful to prayer, the blast of the whistle gathered the town to the wharf. Among the faithful was Charles and, as he watched Nina disembark, he uttered the most quoted words in our whole family history, "I'm going to marry her and buy her a sky-blue dress to match her eyes."
Nina and Charles were married on June 20, 1887, in the front parlor of her cousin Alanson Blackman's home on Avenue B, just across the street from Hycranus and Ella's where she had stayed in the second-floor front bedroom for a short five months.
Frances's novel, Becoming Beatrice, tells the story of Nina and Charles using fictional names which allows her some room to embellish the story in ways not permitted with historical accounts. My favorite is the addition of a Native American girl, Twasla, who takes care of the home and befriends Beatrice — once she learns there is nothing to fear of this friendship.

Nina Bakeman, 1925.
You are invited to join Frances Wood reading from her novel at the Blackman House Museum on Sunday, October 21, from 1 to 3p. The museum is located at 118 Avenue B, the reading is free, but hope you will pick-up a signed copy of her novel for $16.95, or Down to Camp for $13.95.
. . . .
Learn about Ms. Woods first reading at the museum in 2009.
Follow this link to my first story about the book Down to Camp.
Nina Blackman Bakeman: Snohomish Teacher and Civic Leader (1862-1941)
Finally, follow this link to a review of Becoming Beatrice.
. . . .
Featured Image: Frances Wood pictured in front of the family beach house "Drift Inn" taken on my first visit to Campers Row on Whidbey Island in 2009. Sadly, the cabin, designed by J. S. White around 1910 was severely damaged by a 2015 landslide.